Trinity Psalter Hymnal News
Trinity Psalter Hymnal Unveils Redesigned Website
Trinity Psalter Hymnal Joint Venture Board
June 1, 2022
The official website for the Trinity Psalter Hymnal has recently undergone a complete redesign and overhaul, with updates to the design, navigation, and the ability to search the hymnal. The site includes resources about the psalter-hymnal, helpful information about copyright permissions, links to purchase different editions, and a robust song database.
The site redesign was developed from the ground up, with the focus of the development being a searchable song database of all the songs in the Trinity Psalter Hymnal (TPH). This song collection, accessible via a link in the upper right corner of the homepage, can be browsed by Psalm or Hymn title, or by Tune, Composer, or Author. The hymnal can also be searched utilizing a single search box. Searching encompasses titles, authors, composers, tunes, Scripture references, and the full text of each tune.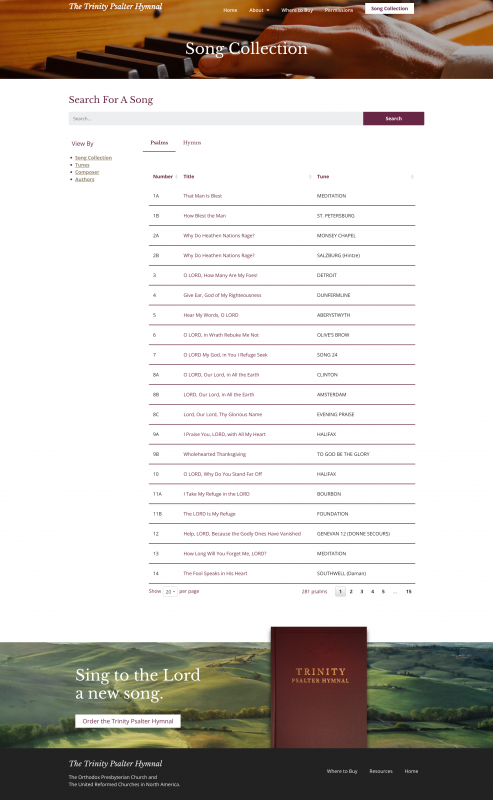 Individual song pages include the full text of the psalm or hymn when copyright law allows, and song metadata including tune name and meter, composer, author, dates, Scripture references, and copyright information. Professional piano recordings of song tunes, when copyright permissions allow, are also able to be streamed from individual song pages.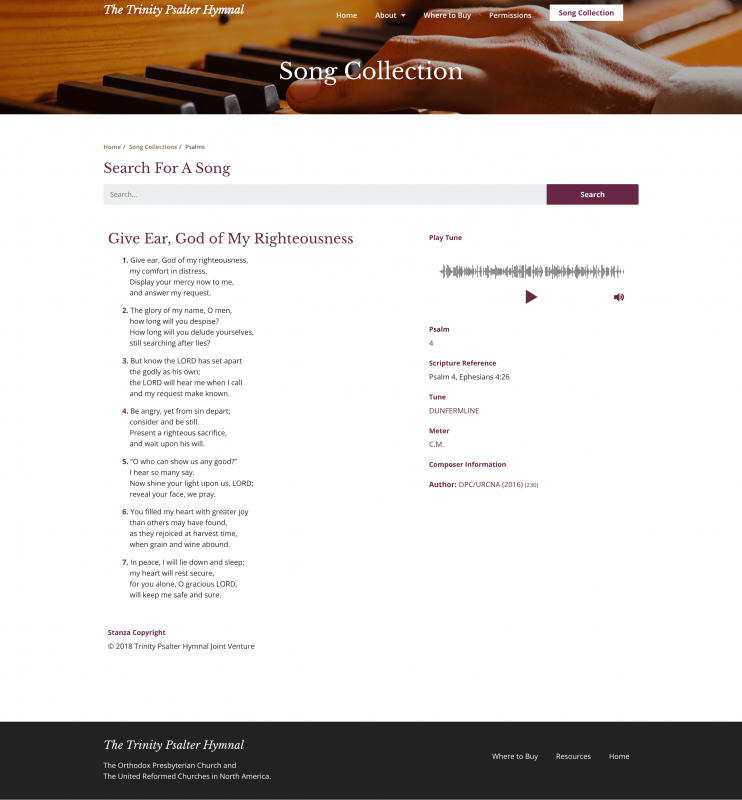 The publishers of the Trinity Psalter Hymnal, a joint venture between the OPC and United Reformed Churches in North America (URCNA), contracted with the web design firm FatRabbit Creative of Chester, NJ, which served as the lead designer and developer for the project. OPC Deacon Kevin Laubach served as Art Director for the project at FatRabbit.
"We had multiple team members work on the design and development throughout the project," said Mr. Laubach. "Our priority was to create a website that is both functional and aesthetically pleasing, with the ability to easily navigate among the different features of the site. We hope visitors to the site find it useful and enjoyable."
Pastors and elders especially should find the new TPH website helpful for worship planning and preparation. The site complements the paid digital editions of the Trinity Psalter Hymnal available via Great Commission Publications and the TPH mobile apps available on the Apple App Store and Google Play Store. The Trinity Psalter Hymnal has also been indexed at Hymnary.org, a comprehensive index of hymns and hymnals online.
The sixth printing of the Trinity Psalter Hymnal is underway and has an estimated delivery date of mid September, 2022, depending on supply chain availability. To date, more than 70,000 copies of the pew edition in five printings have been sold.
Future developments and updates to the Trinity Psalter Hymnal suite of publications are also being investigated, including potential choral recordings; including the creeds, confessions, and catechisms in the mobile apps; and higher quality audio tunes in the Android app to match those in the Apple app.
For more information, visit www.trinitypsalterhymnal.org or email [email protected].